UCSF Analysis of Emergency Department Visits Suggests Many Minor Injuries May be Preventable
A comprehensive survey of genital injuries over the last decade involving mishaps with consumer products like clothing, furniture, tools and toys that brought U.S. adults to emergency rooms reveals that such injuries are common and may be preventable, according to doctors at the University of California, San Francisco (UCSF).
The study was the largest ever to look at major and minor "genitourinary" injuries, which involve the genitals, urinary tract and kidneys. It showed that 142,144 U.S. adults went to emergency rooms between 2002 and 2010 for such injuries – about 16,000 a year.
The work suggests educational and product safety approaches for preventing these injuries may be possible because the injuries themselves tended to cluster into particular age groups and involve specific consumer products.
"It shows which groups are at risk and with which products," said UCSF urologist Benjamin Breyer MD, MAS, who led the research.
Mostly Men, Most Often Crossbar Injury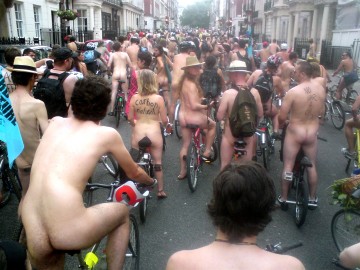 Credit: diaphania.blogspirit.com
Most of the patients in the study – about 70 percent – were men, and more than a third were young men (18-28), who tended to hurt themselves most often in sporting accidents – crashing onto the crossbar of a mountain bike, for instance.
Older men were more likely to sustain genital injuries during routine activities, such as slipping into a split and hitting their groin on the edge of the bathtub. They were also more likely to be hospitalized for their injuries.
While women were overall less likely to endure genital injuries than their male counterparts, there was at least one exception: cuts and infections related to shaving or grooming pubic hair.
The last few years have seen a dramatic increase in these types of injuries in women, and a second study that was recently published by the same UCSF group found that these types of injuries increased five-fold between 2002 and 2010.
Breyer said insight into the common ways injuries occur may also suggest the most fruitful ways to prevent them through consumer education and product safety measures, such as padding on bike rails, slip-free bath mats and safer techniques for grooming pubic hair.
In their paper, the UCSF team noted that there are also standard procedures that emergency department doctors would do well to learn, such as "zipper detachment strategies for penile skin entrapment."
The research was Epublished ahead of print The Journal of Urology:
Bagga HS, Tasian GE, Fisher PB, McCulloch CE, McAninch JW, Breyer BN. Product Related Adult Genitourinary Injuries Treated in United States Emergency Departments from 2002 - 2010. J Urol. 2012 Nov 2. pii: S0022-5347(12)05440-7. doi: 10.1016/j.juro.2012.10.122.
The following are annual statistics for common causes of adult injuries to the genitals, urinary tract and kidneys taken from a survey of U.S. emergency department visits from 2002 to 2010.
Bicycles – 1,212


Razors, scissors and clippers – 1,089
Zipper injuries – 951


Bathroom falls and mishaps – 818


Basketball equipment – 309


Baseball and softball equipment – 240
Skiing and snowboarding equipment – 182
Click HERE to Treat the Dreaded Penis in the Zipper