Smoking and obesity are two of the most important behavioural risk factors for premature death in the West.
Now a study led Martin Neovius at Karolinska Institute in Sweden has shown that smoking and weight have combined effects on the risk of death.
The researchers analysed the cause of death of over 45,000 men who underwent mandatory military conscription tests in Sweden. The participants all had their body mass index (BMI) measured and reported their smoking status at the age of 18 and were followed up for an average of 38 years. In total, the authors assessed 1.7 million person-years of follow-up in relation to the health and mortality of all the participants.
During the follow-up period 2,897 subjects died, the incidence of death was lowest for people with normal weight and highest in obese subjects.
Compared to normal weight adolescents, being overweight at the age of 18 increased the risk of premature death by just over a third, while being obese more than doubled the risk.
The Biological Mechanism

Overweight and obesity are both associated with insulin resistance, higher blood pressure, and adverse blood lipid profiles. These are likely to result in a greater incidence of type 2 diabetes and cardiovascular morbidity and have also been linked to several types of cancer
Journal Reference

Martin Neovius, Johan Sundström, Finn Rasmussen. Combined effects of overweight and smoking in late adolescence on subsequent mortality: nationwide cohort study. British Medical Journal. 2009; 338:b496

WHO defined categories of body mass index (BMI, weight (kg)/(height (m)2) are:
Underweight - less than 18.5

m2
Normal weight - 18.5-24.9 kg/m2
Overweight - 25-29.9 kg/m2
Obese - equal to or greater than30 kg/m2

Calculate your BMI HERE
Smoking Cessat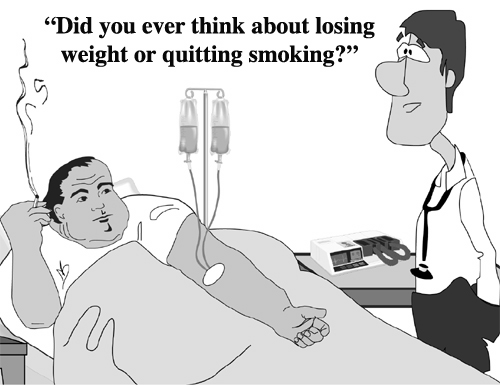 ion: CLICK HERE for more information
Weight Loss:

CLICK HERE for more information
Why not drop in TODAY and talk to our pharmacists!
Photo Credi
t 1
Photo Credit 2