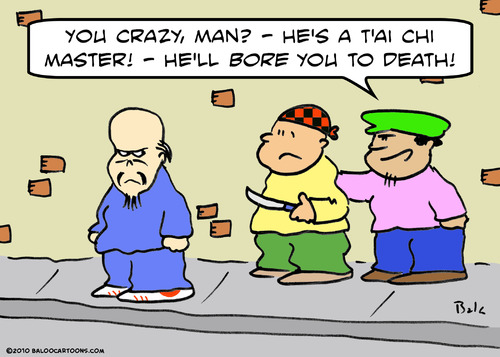 Tai Chi Diminishes Oxidative Stress in Mexican older adults
Researchers recently completed out a quasi-experimental study determine the effect of Tai Chi on oxidative stress in a population of elderly Mexicans.
A sample of 55 healthy subjects randomly divided into two age-matched groups: (i) a control group with 23 subjects and (ii) an experimental group with 32 subjects. The experimental group received daily training in Tai Chi for 50 minutes.
The following bio-markers of
lipid peroxidation and oxidative stress
were measured before and after 6-month of exercise period: thiobarbituric acid reactive substances (TBARS), total antioxidant status (TAS), superoxide dismutase (SOD), and glutathione peroxidase (GPx).
It was found that the Tai Chi group exhibited a statistically significant decrease in glucose levels, total cholesterol, low-density lipoprotein cholesterol (LDLC), and systolic blood pressure, as well as an increase in SOD and GPx activity and TAS compared with the control group (p < 0.05).
The findings suggest that the daily practice of Tai Chi is useful for reducing oxidative stress in healthy older adults.
J. Rosado-Pérez, E. Santiago-Osorio, R. Ortiz and V. Manuel Mendoza-Núñez.
Tai Chi diminishes oxidative stress in Mexican older adults.
J Nutr Health Aging,
Mar 2012
. DOI:
10.1007/s12603-012-0029-9
Oxidative stress
is increasingly implicated as a possible underlying pathogenic mechanism in a wide range of diseases such as asthma, atherosclerosis, cardiovascular disease, diabetes, cancer, and Alzheimer's disease. It results from an imbalance between the production of reactive oxygen species (ROS) and the system's ability to detoxify the reactive intermediates or repair the resulting damage.
Tai Chi For Beginners
The Tai Chi group that meets Tuesdays and Fridays at
Hin Hua High School, Persiaran Raja Muda Musa, Klang
welcomes beginners. Bilingual classes start at 8.30pm under the direction of Messrs Aw and Ng. No 'pyjamas' required; come in your most comfortable apparel .You can call our pharmacy on 03 31688469 for further details.