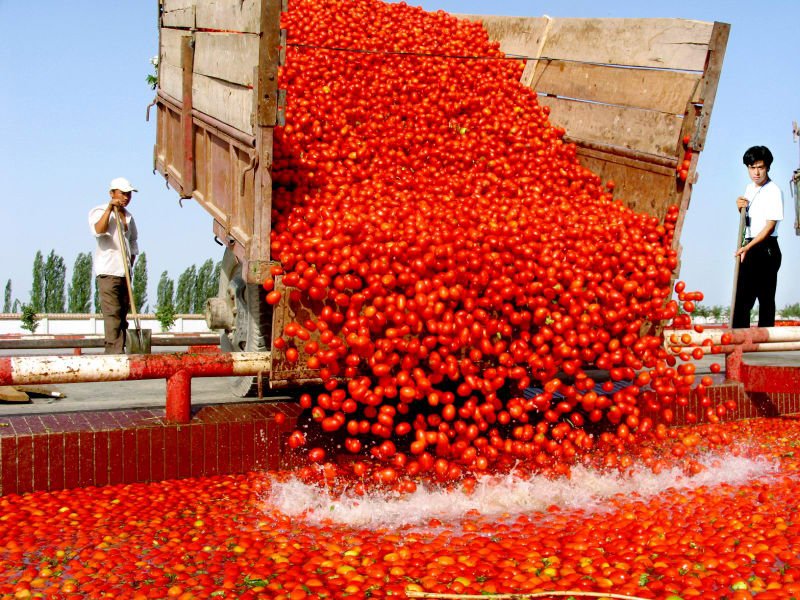 Picture credit: www.img.21food.com
Why should we eat Lycopene?
Lycopene, the natural carotenoid that gives tomatoes their red colour is one of the most powerful antioxidants found in foods1.

Antioxidants help to protect cells from the damage caused by free radicals.
Due to its antioxidant strength, considerable research is being conducted into the health benefits of Lycopene. The strongest scientific evidence is for the role of Lycopene in supporting prostate health. A study by the Harvard School of Public Health suggests that people eating seven to ten servings a week of Lycopene-rich foods may have the most valuable health effect (2).
While the human body does not produce Lycopene, it is readily available through smart, easy and tasty diet choices. Lycopene occurs naturally in many red foods, such as watermelon, pink grapefruit and tomatoes. Tomato paste, however, provides one of the richest sources of Lycopene, as cooking and processing tomatoes stimulates and concentrates the Lycopene content. Adding a little fat such as olive oil when cooking with tomato products increases the body's absorption of Lycopene.
How can I get more Lycopene in my diet?
Eating more fruit and vegetables, including tomato based products, is one of the easiest ways people can significantly improve their health and help prevent the onset of certain diseases 3. Lycopene should be eaten in conjunction with the full range of nutrients occurring in tomatoes and other fruits and vegetables in order to achieve the greatest antioxidant effect. Tomato paste offers one of the richest natural sources of Lycopene.
While there is currently no official recommended level of Lycopene intake, suggestions range from about five up to 35mg of Lycopene per day. This could be achieved by consuming at least one or two servings of tomatoes or tomato products every day.
Lycopene Comparison Table
| | | | |
| --- | --- | --- | --- |
| Product | Lycopene (mg/100g) | Serving Size | Lycopene (mg/serving) |
| Tomate Paste | 42.2 | 30mL (2 tbsp) | 13.8 |
| Spaghetti Sauce | 21.9 | 125mL (1/2 cup) | 28.1 |
| Chilli Sauce | 19.5 | 30mL (2 tbsp) | 6.7 |
| Tomate Sauce | 14.1 | 60mL (1/4 cup) | 8.9 |
| Tomate Juice | 9.5 | 250mL (1 cup) | 25 |
| Pink Grapefruit | 4 | 123g (1/2) | 4.9 |
| Raw Tomato | 3 | 123g (1 medium) | 3.7 |
1. Rao, A.V. & Agarwal, S. (1999), 'Role of lycopene as an antioxidant carotenoid in the prevention of chronic disease: a review'. Nutrition Research 19 (2): 305-323.
2. Giovannucci, E., Ascherio, A., Rimm, E.B., Stampfer, M.J., Colditz, G.A., Willet, W.C. (1995), 'Intake of carotenoids & retinol in relation to risk of prostate cancer.' Journal of the National Cancer Institute 87: 1767-1776.
3. National Health & Medical Research Council (2003), 'Food for Health – Dietary Guidelines for Australian Adults.' Commonwealth of Australia.
4. www.lycopene.com.au